Featured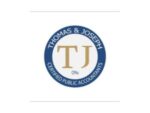 Short Description
Welcome to Thomas & Joseph CPAs PLLC, a leading accounting firm dedicated to providing exceptional financial services and guidance to individuals and businesses.
Description
At Thomas & Joseph CPAs PLLC, we understand that navigating the complexities of financial management can be daunting. That's why our team of experienced Certified Public Accountants is here to simplify the process and help you achieve your financial goals with confidence.
Thomas & Joseph CPAs PLLC is committed to building long-lasting relationships with our clients based on trust, integrity, and exceptional service. We take the time to understand your specific financial situation and objectives, providing personalized solutions that align with your goals.
With Thomas & Joseph CPAs PLLC, you can rest assured knowing that your financial matters are in capable hands. Let us be your trusted partners in navigating the complexities of accounting and unlocking the full potential of your financial success. Contact us today to schedule a consultation and experience the difference of working with a dedicated and knowledgeable accounting firm.
Send Message to listing owner